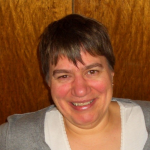 During 23 years, I have had different administrative roles, five years of which I have spent teaching inter-business IT applications.
For several months, I threw myself into teaching IT skills to immigrant women.
For 4 years, I passed on my computer knowledge to elderly people in two associations.
I am self-employed and offer home-based courses since 2013.
I have had the opportunity to take some advanced computer courses. I formalised my training by obtaining the ECDL Core certification.
I followed a course for adults training adults.
You will benefit from:
 my patience
 practical exercises
 understandable vocabulary
 encouragement to persevere
 answers to your questions